How can we afford not to – Save Just One Rhino
Every seven and a half hours a rhino is killed. . . 
Just think about that; EVERY seven and a half hour.
It's a little more than three a day. The same amount of time you spend on getting up in the morning, sending your kids to school, go to work, eating lunch…
perhaps by this time a couple of rhinos has been poached. You work some more, leave work, picking up you kids, get home, play with your kids, eating dinner, watching television, getting the kids to bed, reading a book, you get yourself to bed, turning off the light, and by this time one more, perhaps even two rhinos have been killed. They might have left a baby behind who are now an orphan.
And this IS every single day!
I must admit, before being part of this project I didn't know the situation with poaching was that bad.
Current predictions suggest the rhinos will go extinct in the wild within 20 years if the current poaching rate continues.
So when I learnt about this project I didn't think twice about helping raise money so perhaps I can be the one to contribute to save maybe just one more rhino.
I'm not a parent so I'll will not be the one to bring my kids to beautiful Africa to see the amazing rhinos. But I DO have a bunch of nephews, a niece, several godchildren and I know many other awesome kids whom I would love to be able to show these magnificent animals.
Current predictions suggest the Black Rhino will go extinct in the wild within 20 years if the current poaching rate continues.
While you might think laws are surely in place and poaching has likely lessened, in fact it is the opposite. According to WESSA, the numbers are shocking. Rhino deaths by poaching have tripled in the last five years in South Africa alone.
Rhino horns are actually made of keratin. If you want keratin, you might as well chewing your fingernails.
The precise chemical composition of the keratin will vary depending on a rhino's diet and geographic location. This case has allowed Raj Amin, senior conservation biologist at the Zoological Society of London and his colleagues to use these "fingerprints" of horn samples and determine the animal populations they came from, which has helped law enforcement officials target and crack down on poaching which is by great value. But the prospective is bleak.
In Yemen, the horn continues to be craved for by men, although imports were banned in 1982. The horn, whose luster increases with age, is used for the handles of curved daggers called "jambiya," which are presented to Yemeni boys at age 12. Jambiya are considered a sign of manhood and adoration to the Muslim religion, and used for personal defense. Yemeni men take great pleasure in value on the dagger handles, which are commonly studded with jewels.
In China, the ornamental use of rhino horn dates back to at least the 7th century AD. Over the centuries, rhino horns have been carved into ceremonial cups, as well as buttons, belt buckles, hair pins, and paperweights.
But even worse; the Rhino is killed for its horn, because in some Asian cultures it is said to have curative powers. Most recently, a sharp surge in the demand for rhino horn in Vietnam has been attributed to rumors that the horn cures cancer. This has NO factual basis in science.
The street value for rhino horn is said to have an inflated rate of up to $65,000 a kilogram (2.2 pounds) so poachers are a whole different breed today, with financial support for technology and cash to bribe officials, rangers, and police.
The rhinos need your help!
Travelers Building Change and Green Travel Media have partnered to raise money for a project called Rhinos Without Borders.
The RWB project is being spearheaded by Great Plains Foundation founders Dereck and Beverly Joubert — National Geographic Explorers, acclaimed wildlife photographers/filmmakers. Dereck and Beverly Joubert, are famously known for their great work on National Geographic's Big Cats Initiative which has already funded 60 projects in 23 countries.
The Jouberts are now dedicated to rhino conservation. They are based in Botswana's Okavango Delta, and the operation called Rhinos Without Borders in an effort to trans locate 100 white and black rhinos from South Africa to Botswana in the year 2015 to protect them from the tragic rise in poaching. One hundred percent of the proceeds raised will be used to fund the rhino relocation process.
Through their Great Plains Foundation, Rhinos Without Borders has partnered with andBeyond, an eco-conscious luxury tourism venture with experience in rhino relocation, to help with the task.
Botswana has more remote areas, harder to reach by poachers and one of the lowest corruption rates in Africa and trophy hunting of lions, leopards, and now rhinos was recently banned in Botswana. Many may not realize that South Africa still allows trophy hunting of Rhinos.
And as Mr. Joubert points out, it's not only about protecting the rhinos, but it's about spreading the risk. "One of the worst things we can do is to keep the entire pool of assets in one place."
Here you can watch the Jouberts explaining about their Rhino mission
I like the idea that we, as human beings, the top of the food chain take responsibility for the mess, the huge errors we make.
You might argue that it is not your mess, it's not you who killed the rhinos to use the horn as medicine.
But we all live in the same world, in a world society where the more intelligent must teach the less intelligent ones, we must make sure that we can all coexist.
We pride ourselves as being the cleverest animal on the planet, when things like this happens, when horrible mistakes as the poaching of rhinos happens we must prove that we really are the cleverest, we must act and take control of this bad situation to make wrongs right before it's too late.
The rhinos are still here but if we keep saying that it is not my problem, this is not my fault, if we don't act the rhinos will be gone tomorrow. It's not as if we can rely on the legal system to take action and trust everything will be fine.
There are several reasons for not to trust the legal system. The corruption is not to be underestimated and once the rhino is extinct we can not say oops! that was a mistake and hit the undo button. When the rhino is gone, it's gone.
If you imagine a legal trial where the people responsible for killing the last rhinos were found guilty and sentenced, not even that can bring the rhinos back.
So dear reader How can we afford not to – Save Just One Rhino? Please help the rhinos, and donate so the future will be less bleak for these wonderful creatures.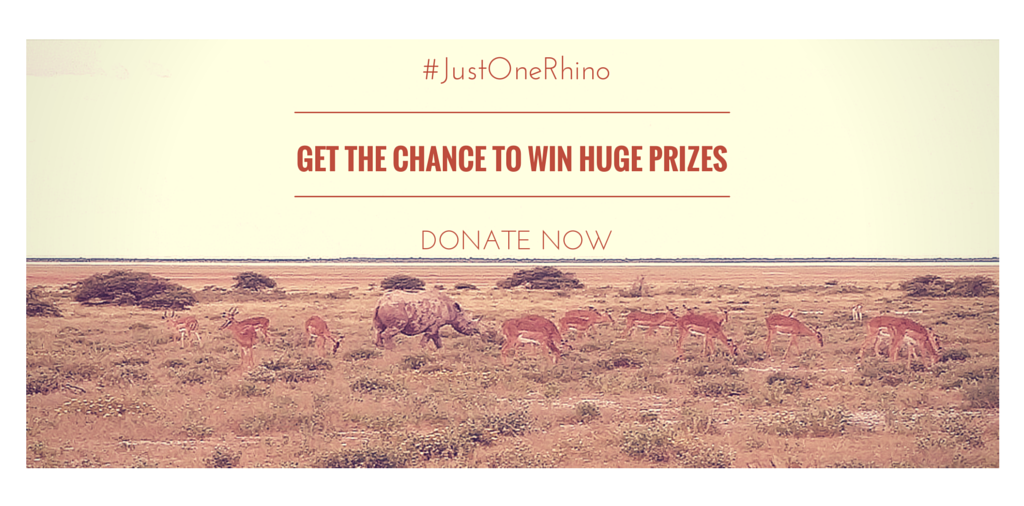 Donate and possibly WIN huge prizes
There are over $30,000 worth of prizes (see below), including tours/hotels stays in 11 different countries on five different continents (North America, South America, Europe, Africa and Asia).
By supporting the rhino conservation effort, and with a donation as little as $20, you can be entered to win some incredible travel prizes!
By donating you will receive "tickets" (the more you donate, the more chances you get) and get to choose your top 3 prizes that you hope to win. Prizes will be drawn randomly.
Grand Prizes:
International Expeditions
10-day Galapagos Voyage for one. Value $5,298
Full Trip Details found here.
Adventure Life
South Africa Big Five Safari: Kruger & KwaZulu-Natal + Swag Bag for 2 people. Value $5000
Full Trip Details found here.
Cobblers Cove Hotel, Barbados
Seven nights bed and breakfast in a Garden View suite. Value $5,187
Yemaya Island Hideaway & Spa, Nicaragua
10 nights' stay & wellness package for two people at Yemaya Island Hideaway and Spa on Little Corn Island, Nicaragua. Value $5,241
Secret Retreats
Vouchers for 2 people at Bali Jiwa Villain in Bali, Indonesia. Value $1,000
(2) Vouchers for 2 people at The Scent Hotel in Koh Samui, Thailand. Total Value $3000 ($1,500 for each 2-person package)
Vouchers for 2 people at 4 Rivers Floating Lodge, Koh Kong, Cambodia. Value $900
Vouchers for 2 people at Flower Island, Palawan, Philippines Value $900
OTHER PRIZES
eBag Luggage
WeWOOD Watches
Dinner/Brunch Cruises
2 nights in an Italian Villa
2 Tours in India
ExOfficio Gift Certificate
2 nights Renaissance Asheville
Travel Blog Success Lifetime Membership
African Elephant Photo Pack
HDR Timelapse Video Camera w/Lens
Blogger Mentorship Package from Green Global Travel
To view the full prize list, please visit TravelersBuildingChange.org. Or click the button below to donate and help us to save #JustOneRhino.
Deadline for donations is February 28. Winners will be announced March 3, 2015—World Wildlife Day.
Be sure to follow the hashtag #JustOneRhino on Twitter.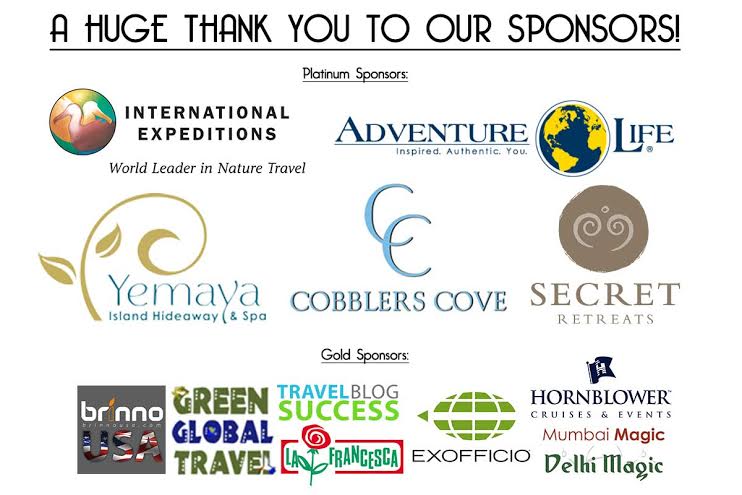 Please share this article to spread the love for our wildlife, and awareness about this vital project — thanks!
How can we afford not to – Save Just One Rhino