School of the Air
After touring the eastern coast of New South Wales and Queensland my husband and I decided to head for our favorite place in Australia, the outback. While we enjoyed the vast distances and beautiful desert colors, we passed Charleville and stayed for a few days. Charleville is in Queensland approx 800 km west of Brisbane. One morning we went to see the museum of  Royal Flying Doctor Service, and realized almost by accident (one of the good ones!) that School of Distance Education was located in the very same building. We got to talk to a teacher and she invited us into the classroom.
So what is School of Distance Education or School of the Air (SOA)?
School of the Air (SOA), today School of Distance Education, is one of the means by which children in remote communities can access schools.
Learning in this type of school has benefited immensely from radio communication.
After recognizing that there was an urgent need for medical and health care to people living in remote communities, the Reverend John Flynn established the Royal Flying Doctor Service (RFDS). In response to this need the RFDS, under the guidance of Flynn, established a radio network across the vast center of the country. This network was powered by another great Australian innovation – Alfred Traeger's pedal-powered radio.
In 1946, Miss Adelaide Miethke was the vice-president of the South Australian wing of the (RFDS) and a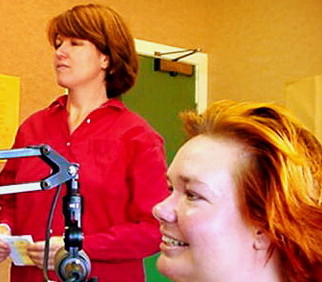 former inspector of girl's schools. The idea for the School of the Air was born when she noticed how outback children were all taught to use the RFDS radio service. She then realized that there were other ways the network could be used.
Up until the 1950s, children living in remote communities would either have to attend a boarding school, or complete their lessons by mail. This meant that students were either separated from their families or they had no interaction with their teacher and other students. Due to the delays in mail delivery, it also meant that many of these students would fall behind in their lessons.
In 1948, the Alice Springs RFDS base, was used to broadcast the first school lessons to outback children. Just a few years later, the School of the Air (SOA) was officially established. (Today's School of Distance Education students no longer have to use the old pedal-powered radios. They use high frequency (HF) radio transceivers to receive their lessons and new technology is constantly being incorporated into the schools.)
Back in the classroom in Charleville the two teachers explained us that teachers have to be skilled in a lot of different subjects and how they run the school by communicating with the children by radio. One of the teacher asked me if I wanted to talk to a schoolchild? Absolutely, I was thrilled! I think education is extremely important and I was already so elated we were invited in to the classroom and it just got better when I could actually talk to the children. I got to talk to a boy and a girl. Both of them were extremely happy to talk to a foreigner and they were just delightful. I told them a bit of Denmark, I even taught them a few Danish words. They told me how it was to have classmates on a distance only meeting up once in a while, and how it was to be a child in the outback.
It was one of the smallest classrooms I've ever attended and yet I got the feeling of being in the largest of them all, being able to talk to schoolchildren hundreds of kilometers away. It was quite phenomenal.
Charleville School of Distance Education (formerly Charleville School of the Air), take pride in having a vibrant school community despite its members being separated by distance, hence their motto 'Divided by Distance, United by Voice'.
15 years ago, when this took place, it was not custom to invite tourist to attend these schools, but of my knowledge it is quite accessible for tourist today. So go for it, if heading to the outback!