Gaudí's Barcelona
Antoni Gaudí ( 25 June 1852 – 10 June 1926) a Spanish Catalan architect from Reus and a known practitioner of Catalan Modernism.

Gaudí's works reflect an individualized and distinctive style.
Gaudí's work was influenced by his passions in life: architecture, nature, and religion.
Gaudí considered every detail of his creations and integrated into his architecture such crafts as ceramics, stained glass, wrought ironwork forging and carpentry.
He also introduced new techniques in the treatment of materials, such as trencadís, the use of broken pieces of ceramic.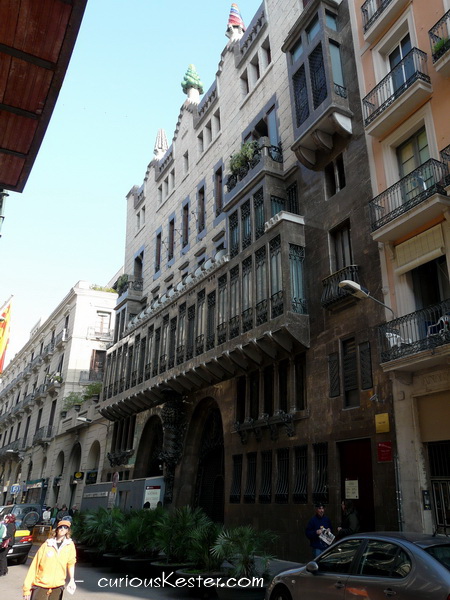 Under the influence of neo-Gothic art and Oriental techniques, Gaudí became part of the Modernista movement which was reaching its peak in the late 19th and early 20th centuries. His work transcended mainstream modernism, culminating in an organic style inspired by natural forms. Gaudí rarely drew detailed plans of his works, instead preferring to create them as three-dimensional scale models and molding the details as he conceived them. Stylistically can Gaudí's use of organic forms, especially after 1900, remind of the little earlier Art Nouveau architecture.
"God's Architect" the nickname Gaudí earned because of his Roman Catholic faith. His faith intensified during his life and religious images appear in many of his works.
Park Güell
(Click on photos to enlarge)
Temple de La Sagrada Familia
Temple de La Sagrada Familia is probably the most popular, or renowned achievement of Gaudí, and for good reason. It is an absolutely
wonderful and extraordinary masterpiece. It was created in the spirit of nature as afterthought, and I must be said Gaudí succeeded.
Gaudí died before the church, or temple, as it is called was finished, but there is still built on full force.
The first time we were visiting the church, it was far from complete, and it is not possible to walk everywhere. It is actually only the facades of the aisles that are ready, the main ship, the large towers, domes and spears missing completely. To walk around the church, is completely impossible, everybody works vehemently.
The builders stands in small clusters, with each working on their special project. It is filled with scaffolding, equipment, tools, materials, etc. Guests are therefore referred to the narrow "path" along the outside wall.
There is an incredible amount of details, to absorb. The eyes roams around, hoping to take it all in.
 
(Click on photos to enlarge)













Casa Batllo
Casa Batllo, another one of Gaudi's impressive buildings. In this house we come and see several floors of the house, but first I switched wheelchair because mine were too big for the lift.
The house, now a museum luckily have one you can borrow.
Casa Batllo is designed in bombastic and curved lines, with the sea and Jules Vernes Twenty Thousand Leagues Under the Sea, as the main theme.
Impressive and beautiful patterns on the ceiling, magnificent stained windows, impressive carved doors and panels.
The ventilation was beautifully integrated into the woodwork in small light sources in the form of nearly invisible windows that in a vault in the ceiling.
All in all, Batllo was an exciting and continuously surprise, with impressive details and craftsmanship.
It was pure pleasure, and I think Casa Batllo is my favorite Gaudí's work.
(Click on photos to enlarge)