In year 2000 Dieter and I were traveling in the northwestern part of South Africa, when we in Upington met a guy who asked if we would like to fly on a micro-lite? Absolutely; we are always ready to fly in a micro-light and watch some African wildlife!
We arrived to the runway early next morning and met up with the instructor Eeben. He explained us everything we needed to know about the micro-lite and I soon realized that me sitting in the backseat; which I was supposed to, was actually impossible. There was not enough space for me to get back there.
Eeben said that it would be fine if I sat in front of him and he would go in the back.
We both got headsets on so we were able to communicate while flying.
After getting into the seat I soon realized that I wouldn't be able to reach the footrests. The instructor asked if I could lift up my feet during take off and landing? Of course I said, all cocky! Later realizing when accelerating the wind pushed my legs backwards and down towards the ground so I was actually terrified that my feet would get tangled up in some scrub; and I was sure I could loose a leg even before we hit the runway.
I acted like an ostrich; simply closed my eyes and hoped for a miracle  — I was sure that I needed one!
Luckily everything went fine  — the situation is very typical me; I might be concerned in a split second but the adventure go before anything else.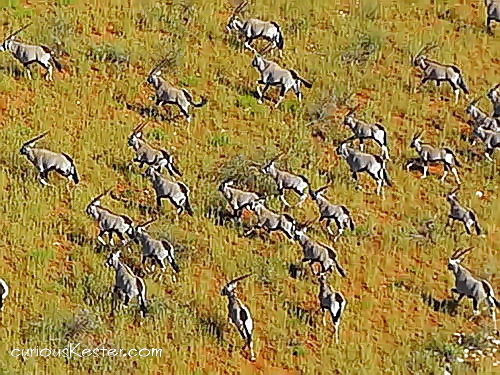 Flying above the wildlife park was incredible. It felt as if I had turned into a bird. Especially after flying for some minutes and Eeben asked on the headphone; Kirsten are you feeling comfortable?
Yes, this is fantastic, I don't ever want to stop.
Eeben laughed and replied; OK you be ready now and then the engine stopped.
Huh. . . ?
I got a bit confused, still comfortable and all that, but anxious to know why the engine had stopped..?!
Next I hear Eebens voice on the headphone saying; now it's your turn to steer the micro-lite, just grab the wings and fly, and make sure we wont hit ground. So I got us to soar through the air; just like a bird. . . Wow I got goosebumps and my head was exploding with joy. It was an incredible experience.
With the engine turned off; we flew in silence and underneath us I counted running zebras, herds of gemsboks or oryx, jumping springoks and the giraffes were majestically crossing the Savannah. It was indeed as a fairytale.
Nearly 20 minutes later we headed for the runway. The landing was a bit bumpy because the wind had taking on. But all in all it was a smooth ride and Dieter was up next.