Celebrating Christmas abroad
Being away for the holidays, celebrating Christmas abroad is for some people very difficult. Especially during Christmas.
Despite of all the years my husband and I have been traveling, we have only been away for four Christmases.
Before I met my husband, I were traveling in Venezuela for some months and that was during Christmas time as well.
So all in all I have been away from Denmark five Christmases.
To me being away for Christmas is great. I prefer a warm clime and I love the idea of celebrating, soaking up in the sun and enjoying a some great adventures.
Dieter however it is like a Christmas elf. He loves Christmas and enjoy very much being home with his family. And even though I'm not that much of a Christmas person I do enjoy the nice food and being with family during the holiday.
My first Christmas away from Denmark, I was as I have already written, in Venezuela with friends. We decided to rent a small boat and head out to sea. We stayed in a tiny village on the northern coast of Venezuela and went to an isolated island with no people, no shops, no nothing. All day we drank beer, snorkeled and had a lot of fun.
To me this Christmas couldn't have been better.
In the evening we went to a local restaurant, actually the only restaurant in town. The village was so tiny and we never saw any other tourist.
At the restaurant we opened up the presents we have bought for each other. A lot of the children in the village were standing around us as with huge eyes, wondering why we allowed opening up the presents December 24?
Of course they realized it was because of Christmas but it was hard for them to understand, that because we came from Denmark we gave gifts December 24. and not December 25. which is normal in a lot of countries.
But in Denmark we open the presents December 24. after having a great dinner and a dance around the Christmas tree singing Christmas carols, then we open up the presents.
It was hard for the children to understand and it was even harder for us to explain. We felt so sorry for them so we bought some candy and gave it to them.
21 years ago Dieter and I celebrated Christmas in Sydney Australia.
At that point we have been traveling for more than nine months in Asia so not celebrating at Danish Christmas was a bit harder than expected.
In the afternoon we went to a church where we had seen an announcement of a Danish Christmas service. The priest held a sermon and we sang a lot of Danish carols.
After church everybody went to a nearby pub at The Rocks in Sydney. All the others were living in Sydney and a lot of them knew each other. Still everybody was so nice and welcomed us with open arms and heart and the Danish spirit came alive. It actually meant quite a lot to us. So if any of you guys are reading this I must say thank you so much!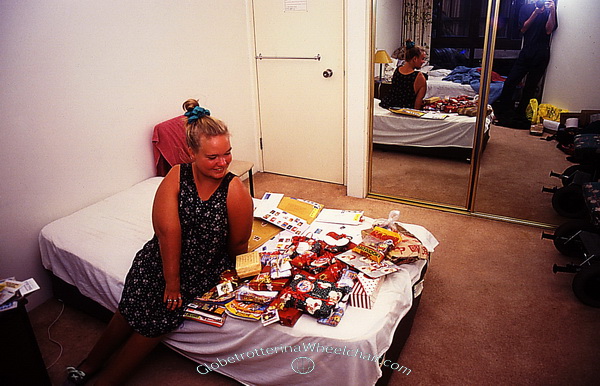 In the morning December 24. we went to the post office and were very surprised of how many parcels and letters there were. It was pure joy walking home to the hotel with the arms full of goodies from Denmark.
We packed up all the parcels in a bag and brought them to a restaurant where we opened them up, one by one.
I do have family in Sydney but unfortunately we didn't get to find them till after Christmas. It would have been nice to celebrate Christmas with them, but we got to spend many wonderful hours later.
Some years later Dieter and I spent three Christmases, with some years a part in Mexico. Each time it has been with different friends and celebrated it in different ways.
The last time we spent Christmas in Mexico were with some close friends. Dieter made real Danish Christmas dinner and we exchanged parcels. It was fabulous!
Some years back we were traveling in Australia where we met a Danish mother with her daughter. It was in the beginning of December and they were supposed to leave for Denmark around December 20. Later I realized that they have shortened their journey because they didn't want to miss the Danish Christmas decorations in the streets, the lights, the smell of roasted almonds and "æbleskiver", (a traditional Danish cake, meaning apple slices in English. Somewhat similar in texture to American pancakes but light and fluffy like a popover. They are yum!!).
Anyway, I was very surprised. I don't think it could ever happen to me. I would definitely choose a a journey through Australia, or any journey over Christmas.
So dear reader if you're thinking about celebrating Christmas in a foreign country, make sure this is what you want. I would hate for you to miss out a fantastic journey, – or miss out celebrating Christmas in your home country if that is what you want.
I wish all my readers of Globetrotter in a Wheelchair A very Merry Christmas and I really hope you do enjoy your evening, morning or however you're celebrating; whether it's in your home country or you are traveling and exploring the world.