Bangkok street food
Bangkok, Thailand is one of my favorite cities. Bangkok can however, to the unfamiliar eye look a little chaotic and intimidating – well occasionally it is and that is what I love about Bangkok, everything seems to thrive side by side. .  You'll find poor next to rich, tall next to low, clean next to smelly or mild next to spicy.
Talking about mild and spicy I can not help thinking of the food stalls on the streets of Bangkok. Bangkok street food is special and a must do. I often crave for Thai food and gladly street food from Bangkok as it seems to hold an endless variety and really makes my taste buds happy.
Finding street food like Bangkok street food is actually pretty hard to find anywhere else in the world, so if you are visiting Bangkok get yourself lost in the thousands of food stalls and make the most of it. You are in for a treat.
Wherever you go in Bangkok, food stalls are plentiful. If you stumble upon a wobbly metal table a tiny plastic stool and small pastel colored paper-napkins (which the stall owners often take time to separate if it's a two-layered napkin. It then becomes a one-layered napkin, and they have saved a penny) — cars honking and the air has a rich scent of chili and other goodies, you are at the right place.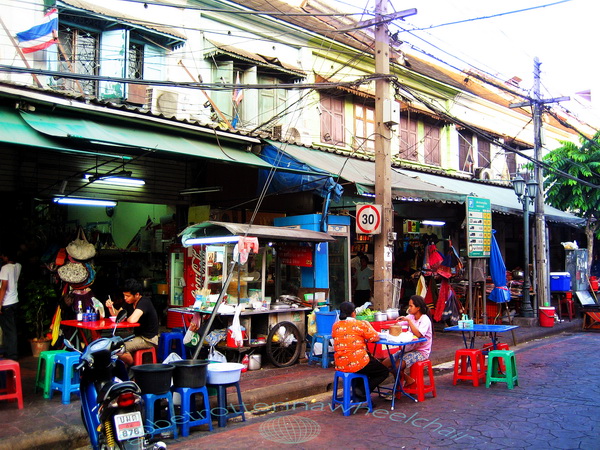 Usually you will find the 'four flavors';  sugar, dried ground chili, vinegar with chili, fish sauce and ground peanuts to spice up your food, if necessarily.
If you get the chance to eat street food in Bangkok, don't hesitate but grab your chance to be experimental. It's convenient, delicious and cheap meals.
These are some of my favorites:
Tom Yum Goong — ต้มยำ (Spicy Shrimp Soup)
Tom Kha Kai — ต้มข่าไก่ (Chicken in Coconut Soup)
Pad Thai — ผัดไทย (Thai style Fried Noodles)
Khao Pad — ข้าวผัด (Fried Rice)
Pak Boong — ผัดผักบุ้งไฟแดง (Morning Glory)
Gaeng Daeng — แกงเผ็ด (Red Curry)
Kai Med Ma Muang — ไก่ผัดเม็ดมะม่วงหิมพานต์ (Chicken with Cashew Nuts)
Gaeng Keow Wan Kai — แกงเขียวหวานไก่ (Green Chicken Curry)
Som Tam — ส้มตำ (Papaya Salad)
The list is endless . . .  — Bon appétit !!