Accessibility in Santiago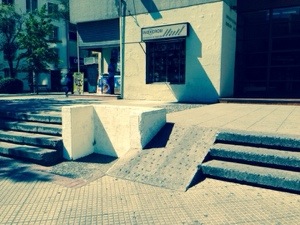 The accessibility in Santiago, Chile in a wheelchair is fairly accessible. But I guess it all comes down to what you are used to.
When you need to cross the streets there are ramps at 9 out of 10 pedestrian crossing. I have brought my manual wheelchair to Chile because it makes it a whole lot easier to travel with public transportation, or rent a regular car.
If I bring my wheelchair to a foreign country and there're no ramps at the pedestrian crossings; I might choose to continue at the street together with the bicycles. Actually I do that quite a lot back home in Denmark with my electrical wheelchair. It's easier and faster (I go 14 km/h./ 8,7 Miles).
To some shops there are ramps. Unfortunately not all. But it's like that all over the world.
A classic example of something annoying is the pole in the middle. It's usually at supermarkets or larger shopping-centers to prevent people from bringing the shopping-carts outside, which might seem reasonable. The security guard just need to be within eyesight to help move the damn pole when you come.
This was our local supermarket in Santiago. 9 out of 10 times the security guard removed the pole, and most will gladly help you. It's just important they are within reach so you can ask for help.
The subway
I went to the subway today. I was looking at the map on the wall and saw the small wheelchair signs indicating which stations have wheelchair access. A service employee came over to see if he could help? Yeah, this map with the little "access signs", do you have that in a portable version?
He immediately called in his walkie-talkie, went away, came back and went away again.
5 minutes later he came back with a regular subway map (with no small wheelchair signs), and started to mark each station there has access.
What don't exits; we can make..!!
Bloody good service..!
— here: Universidad de Chile.
Bus and car 
Unfortunately I did't tried the buses, but from a distance it looked like there was good access for wheelchairs, so if in need I wouldn't worry.
If renting a car in Santiago, I saw some disabled parking spaces, but there isn't many.