Swimming with sharks
If in Belize you should take full advantages of the sea, it's there, the temperature is nice and warm, and it's amazingly how crystal clear and turquoise blue it is.
We wanted to swim with sharks and stingrays so the choice was going to Caye Caulker.
Caye Caulker a nice little island. But way too touristy for my taste. Almost everything is for tourists. You don't see a lot of local culture but mostly hotels, restaurants, tourist agencies, internet cafes etc.
The water is beautiful and there is heaps of mangrove. We got to stay near the "The Split", which is the place where the island was split in two after Hurricane Hattie in 1961.
We went out on this beautiful boat ride. The water is incredibly clear and as we snorkel and swims around it's like a huge and an amazing world opens up yet to be discovered.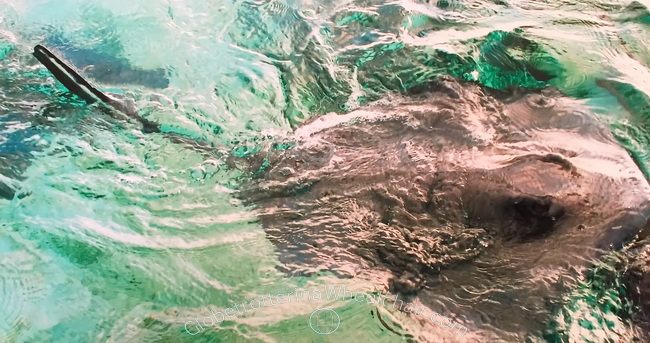 Dieter and I swam right next to each other and for some silly reason I always think I can talk underwater, and share my overwhelming joy with the things I see. Off course I soon realize that opening your mouth underwater is foolish and I start pointing in all various directions instead — still with a smirk on my face though.
All around us there are various fish, corals in all shapes, colors and sizes and all of a sudden a stingray appeared. It was a southern stingray and it was an extremely friendly stingray. So friendly that it felt as it was rubbing its belly towards you. I think it was the area pet stingray. When I petted it I could almost hear it purr, and if I stopped for a bit it came back and wanted more. I guess the poor ray was a bit confused whether it was a cat, a puppy, or a ray.
It was amazing I had never dreamed of cuddling with a stingray that afternoon.
The crew aboard the ship had made sure there was an extra strong guy on board to help get me pulled out of the water again. That guy was Bobby. He was as fit and as strong as needed. He did a really good job together with Charlie and Jerry, the other crew members.
We sailed a little further and went right back into the sea.
This time with a lot of nurse sharks and even more southern stingrays in one gigantic group. There was nothing to do but enjoy this awesome fairy tale. It was a bit frightening being my first time swimming with sharks, and yet absolutely fantastic. A bit surreal to be so close to wild animals with so many and razor sharp teeth.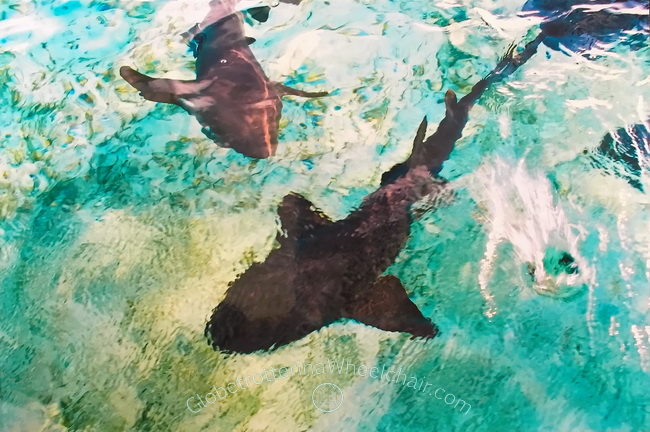 We sailed further and Dieter jumped back in. This time I stayed on the boat and talked with Mette and Michael from Denmark.
Later that evening and only a few days away from Dieter's birthday, we enjoyed the sunset and a coconut rum with pineapple juice together with Mette and Michael. Celebrating Dieter's upcoming birthday and the extraordinary day we all had in the company of phenomenal marine life.